DO NOT DONATE Please wait until Claudia does her thing (that will not be for a while), thanks!

___________________________
SCYTL raid:
Let's all hope it was for real. I am permanently skeptical, but supposedly this believable map was drawn up based on the pre-steal server results. This may have also been yanked from Maryland, or may be drawn up from what Trump witnessed in the SCIF on election night. But this is the real map, as I figured it would be based on my own polling. And if this is indeed coming from a verified source, heads are going to roll.
I called B.S. on the Frankfurt raid before anyone else knew about it or posted about it or Gohmert tweeted about it and did not post about it (other than for anyone to believe it they'd have to huff unicorn farts) but I figured people would consider it not credible and I figured it would not grow so I did not save any of the original tweets. Well, HERE THEY ARE.

There was no credibility to back up the tweets. That, in conjunction with the fact that the U.S. army cannot conduct raids in foreign countries (like Germany, where they can't be pounded into oblivion like Syria) , and that Merkel would certainly not allow her army to conduct such a raid when she hates Trump, and well, unicorn farts. Manure spreader. BULLSHIT.

If by some off fraction of a single percent chance I am wrong about this, it won't matter anyway. But I consider this story dangerous because it will serve to placate the American gun owner into believing that somehow even the unicorns are on their side, so they can just crack a beer and relax. FAR FROM IT.

U.S. Army conducting raids in Germany? Even the German army conducting raids in Germany?
I DO believe a server got seized, but not in Germany.
Here is the story in a form I'd believe:
German police detectives, working on data provided by the NSA, located the servers that were used to rig the U.S. election (no they are not in Maryland as it turns out) but they are, But I'll humor this -

Working on a tip from the NSA, a police unit in Germany that happened to be pro-trump raided the facility that housed SCYTL's servers and confiscated them. Under the radar they were smuggled out of the country . . . . . THAT I'd believe, but sorry, the Army story is BUNK. If I am wrong, I'll laugh with glee until I pass out. I'd gladly eat so many crows the Atkins diet would be the only way to accomplish it.

Fat chance the MSM will say it.
Here is where we sit as of Saturday morning
Whatever happens from this point will be determined entirely by whether or not there is enough of America's original fabric left to initiate a response that will spare the contry from the communists. That is basically it. It appears also that the CIA was directly involved in rigging the vote.

All of the major networks are stating Parler and Gab are becoming platforms for zealots that "threaten democracy". Actually, the platforms threaten those who are destroying democracy by rigging an election, and enforcing the steal. But don't expect the truth from them any time soon.

They are calling us "zealots". That's displacement. REALITY: Zealots will censor opposing views, as THEY have. Conservatives have censored NOTHING. Zealots spend 40 years subverting every form of media and communications to totally shut the majority out and that is precisely what those who are screaming "zealot" at the majority did. Trump supporters are by no means zealots, those who burned the cities, did the riots, enforced the scam of "white privilege" and call a burning car a "peaceful protest" are the zealots and we all know who they are. They cannot find a single honest pinpoint in their souls, if they could and they cared, Trump would be called president in three seconds flat.

Once again - Sydney Powell DID say the Kraken will now be released. Let's all hope there are LOTS of them.
An update on a new type of computer virus
The day after Trump gave his election night speech, where he specifically stated they were going to bring ballots into the swing states at 4AM and steal the election with them, I tried to download that speech and it had the most filthy virus ever conceived embedded in it. The damage was worse than I thought. It 1. Re-flashed the motherboard bios and it had to go somewhere, so it wiped out the overclocking section (which I did not use) but still, it is gone. It 2. Re-flashed the XMP profiles on the Ram sims and cannot be removed from there. 3. It re-flashed the firmware of the DVD drive, so it harbors the virus. 4. It re-flashed the firmware on the Wifi controller, so it harbors the virus. 5. It re-flashed the SSD drive and bricked it. 6. It re-flashed a cell phone that was only hooked up to USB for about 10 seconds. I can only assume it re-flashed the CPU as well. That was OBVIOUSLY the high level CIA sh*t. THEY ARE SERIOUS about shutting Trump down.

Readers sent enough for another computer and I was hoping to be able to use at least a few parts out of the one the virus hit, but I am not going to take any chances. The computer now functions after I tried to re-flash everything and replaced the SSD, but it is not back to normal so it cannot be the primary machine anymore. I am lamenting the loss of a nice motherboard. The rest of the stuff was bare bones in that system but I am still not happy about it.

So I looked up whether or not it was possible for that virus to get into the monitor. I'd say not likely. There is simply not enough flashable space in a basic monitor but it is there. And I am skeptical about even using the power supply . . . . I'll take that apart and see if there is anything in it that could harbor a virus.

So for the tech experts: Conventional wisdom says there's no such thing as a virus that is so universal it can infect every single part, because vendors are all customized and code specific. But there is definitely a universal code in everything that can be exploited by American intelligence, and I hope to God Trump shuts their @sses down. If they manage to finalize the steal, we can all just throw in the towel.
UPDATE TO BELOW: Billionaire Guo is now covering this on his site Gnews.com - I am still skeptical because getting the cooperation needed from Germany to make this happen is as far flung as the best flying piece out of a manure spreader. I franky don't believe it. Merkel HATES Trump, she was as rigged into power as Biden may be, and I don't believe she'd allow action to be taken that might save an American election. She's in the thieving liars club. If this DID happen, she sure as hell either did not know about it, or made damn good and sure the servers were modified to support the "facts".
OLD RUMOR:
I heard about this earlier today or perhaps even yesterday but called BUNK: Dominion servers seized in Germany. I still call 50/50 bunk (too good to be true) and highly improbable because Germany, which hates Trump, would need to allow it and also allow the use of their military, along with the U.S. military. I frankly don't believe that would ever happen. But one can wish, and supposedly credible people are saying it.

Gateway Pundit has a huge writeup about this and it even got covered on Newsmax and other conservative outlets but I still doubt it, even with this tweet:
Regardless of how credible that looks, I know the chain of info for this, it started in a very not credible tweet (not the one I linked) and grew from there. No one got solid info on this, everyone repeating this is high on hopium. Either that or I think someone's huffing unicorn farts. That's why I did not post this earlier. Can I say I hope I am wrong? This is one time I'd love to be the fool.
To be clear: I saw the original tweet for this that happened LONG before Gateway or Newsmax covered it, let alone the tweet I captured here because I figured it was TOTAL BULLSHIT. Now, considerably later there is a ruckus about it. I have to cover it now to not look "out of it". Hopium indeed.

One thing DID happen - Sydney Powell DID say the Kraken will now be released. We'll have to see how THAT goes.
TEXT MESSAGES BEING CENSORED
Got election fraud proof to send to a friend? Anything Trump might have said? CHECK THIS OUT, your text message WILL be censored and the censorship is quite comprehensive, covering multiple wordings. This is full blown soviet. It even says the message was delivered successfully.

So THAT's the world we live in. Perhaps they won't care when this falls apart via word of mouth AFTER Kamala is sworn in.
Take a look to the left here, this is a notice that went out to Delaware County (PA) poll workers
Delaware county has a population of 570,000 people. AND THEY BORKED THE ELECTION SCAM THIS BAD. There are extreme tabulation errors, where the number of ballots don't match the machine count and LOTS MORE. This would be a problem! Is this notice the result of an audit? I HOPE SO.
Keep in mind: This is ONE COUNTY of ONE STATE. There are thousands of pages from other counties and states.
CORONA SCAM NOW CONFIRMED BY ELON MUSK
Elon wanted to get to the bottom of the Coronavirus issue, so he got tested 4 times in the same day, by the same nurse using the same machine. As it turns out, the test is B.S. because under a scientifically controlled condition, two tests came back negative and two came back positive. The test is BUNK. It is simply a 50/50 calculation, like flipping a coin with no process whatsoever behind it.

The "elite" behind the Corona scam therefore KNOW IT, and used this scam to create a plausible scenario where poll watchers would not be permitted. Selectively of course, only Republicans not allowed.
This is yet another nail in the coffin of this hoax election, which in reality did not take place at all.
We have un-opened Trump ballots in landfills (new video, scroll down), we have poll watchers not allowed, we have the crematorium next to Total Landscaping burning ballots, we have ZERO TRANSPARENCY. NO TRANSPARENCY. And SHARPIES to boot. Handing out sharpies at polls, and poll watchers insisting people use them ought to have been a class A felony. What will happen with that? Evidently, whatever gun owners enforce and NOTHING MORE.

Elon's little bust is as bad as the President of Tanzania's bust, Elon proved in a scientific way beyond all doubt that there is no coronavirus test, it is ALL PURE B.S.
UPDATE: When I first did the capture, the comments on Twitter were all "Well, Elon proved it is B.S." and now, it is 100 percent troll posts calling Elon a poor scientist who is irresponsible. FACT: ELON DID THIS IN A SCIENTIFIC MANNER. THE TEST IS COMPLETELY IRREVOCABLY BUSTED, but you would not expect the same trolls screaming the election was not rigged, when the rig largely depened on this hoax, to be truthful, would you???
This just absolutely galls me. And it shows exactly what kind of lies will be told about "corona deaths" when "trump supporters who must be dealt with" are "removed from society", even AOC is onto this now, calling for aggressive punishment of "Trump's enablers" if Biden gets scammed in. The writing is on the wall people, once the "great reset" is underway which will obviously include a massive genocide to accomplish it - no matter WHO comes to the door, even if it is the police, insist on answers before opening and if they are not good enough answers, shoot them through the door. It is as simple as that. If you do not do that or it is anything corona related and they come to your door after you voted Trump, it WILL be to kill you under the cover of Coronavirus - you'll be added to the stats and there will be "no genocide, only corona deaths". My god, we are headed for the edge.
I cannot even begin to describe how the trollage against Elon that suddenly popped up galls me, HE SAVED OUR ASSES WITH THIS, and THAT is what the trolls say? Anyone with a lick of scientific knowledge would know Elon busted the scam to cold carp status, F'EM, LOCK AND LOAD. ZERO COMPLIANCE, PERIOD.
The genocide will not happen via "storm troopers", no, it will be hidden under an N-95 and "medical van".
We have Ocasio saying "Trump enablers" must be pursued and destroyed after the "election," we have Kamala Harris saying TWICE 220 million corona deaths, we have numerous others saying "Everyone who voted Trump must be removed from society so they cannot vote again", we have the Deagel report stating for years it would happen now, AND WE HAVE THIS VIDEO FROM CHINA, WHICH LOOKS EXACTLY LIKE A DISSIDENT PURGE UNDER COVER OF "MEDICAL HELP". What more do people need? We had damn well better shoot.
BIG LOSS, LAW FIRM REPRESENTING TRUMP IN PENNSYLVANIA QUITS.
The corruption is simply too rampant. It really is and has been obvious that gun owners are the only solution to this problem.
Fox News FINALLY mentioned "the great reset".
This means they believe enough final damage has been done to bury the election steal so they'll talk now. But this should have been talked about BEFORE the election and BEFORE they believed all hope was lost, RIGHT??? A lot of good this does now, and it only proves they always knew. Trump had better be able to pull a fast one now but I have a hunch that the announcement from the intelligence community yesterday - where they claimed this was the most secure and accurate election ever, was supposed to be the big bust and they punked him.

And predictably the IDIOTS are saying Ohh, Fox is doing good with this, because now everyone knows. A LOT OF GOOD IT DOES NOW, IDIOTS!!!
BLOCKBUSTER: Bulldozer operator (and all his co-workers burying trash at landfill finds ballots cast for Trump
He says his boss is telling them to not take them, not do ANYTHING with them but bury them and they are ALL TRUMP VOTES.

The landfill workers need to get out of their rigs, and dig up all the ballots while their boss screams they are fired. If he stops them, they need to hog tie him and beat him to a pulp. Why the hell are they going along with this???

Remember those mail sort machines I told everyone were being used to separate out all probable Trump votes by merging voter registration databases with addresses, and having the mail sort machines simply ditch the ones with Republican addresses? And then they said the Sonoma dumpster was bogus when it was not??? What about this??? There is SO MUCH FREAKING FRAUD in this election it is UNBELIEVABLE.
BLOCKBUSTER: Top U.S. cybersecurity official Christopher Krebs HAS BEEN FIRED because he was supposed to be documenting the vote fraud and either did not record it, or deleted it afterward.
After destroying the evidence, he made a major announcement stating the election was "the most secure in history" and "totally fraud free".
I sure hope this does not wreck Trump's ability to prove the fraud. If so, it should be court martial and firing line for Krebs, even if it is not handled within the judicial system and someone else puts it right. HEAR THAT? We have to start thinking that way at this point or there WILL BE A GENOCIDE.
People need to get a firm grip on how bad this is, and realize that it is highly probable we'll need to shoot our way out of this. There is SO MUCH corruption from so many people in that linked statement that we really might have to shoot our way out of this.
HERE YOU GO EVERYONE! Start pinning this to the bottom of your tweets:
Change the file name so they can't AI it out right away.
WOW: MAN SAYS TO BLM: HERE IS MY BIDEN SIGN PLEASE BE PEACEFUL
GOT THAT BIDEN VOTERS? ALL FIVE OF YOU??? iDiOtS!!!

___________________________________
I am beginning to see a LOT of people adding "president elect" to their screen names. I really hope that goes viral!
HUUUGE: Moffat county in Colorado just used the emergency alert system to send a Covid-19 warning
Normally this system is for doing tornado warnings. Witnesses say it was the exact same tone used for severe weather and other emergencies, and it was instead used for a Covid-19 announcement, telling people that coronavirus cases were exploding and to seek shelter immediately.

I KNOW WHAT REALLY HAPPENED: massive vote fraud was about to be uncovered, so they did THAT. That'l shut up all those d*mn Trump supporters!!!
They actually had the audacity to use the emergency alert system for Covid. HEADS UP FOLKS, this might be coming to your area, DO NOT BE FOOLED.
This is obviously not in any papers yet, but it happened at 12:30 PM mountain time and people are posting about it on social media.
Not a whole lot going on today, other than Trump tweets
Yes, there are more witnesses stepping forward, but we have enough. Now we need action.
And there is, at least, this:
There are mountains of proof an enormous pile of people need to be arrested RIGHT NOW, and nothing is happening. Nothing but the same old promises we always got. And the consequences of no arrests will be beyond extreme, especially if they actually do manage to steal Trump out of office. From where I sit, I see only doubled down efforts to continue the steal, while even obviously blown open fraud like Sharpie gate go unanswered - Sharpie gate, where poll workers handed out sharpies to republicans to prevent their votes from being counted, (and even responded in rage when they refused the sharpie) - this type of thing going totally un answered does not look good at all and if it succeeds the only option will be "violent." Remember, when you are trying to stop a genocide there's no such thing as violence, there is only what it takes to stop the genocide.

And it is very interesting that Biden's entire coronavirus task force is staffed by people in favor of euthenasia, making claims that no one should live past 75 years old . . . . The stage is set for Biden's coronavirus task force to stage a genocide, and no one on it will stop it because they are ALL for killing people. This really does not look good folks.

We have been told by several leading democrats now that Trump's supporters, which they now reduced to "enablers" need to be removed from society. And we have a Biden coronavirus task force that has no qualms about killing people. How does that add up? It adds up to white vans with medical people taking "coronavirus victims" who happened to coincidentally be "enablers of Trump" who "must be removed from society" away in the dead of night, only to have their existence monitored from that point on by a task force that has no compunctions about killing people.

I have already said this: EVERY communist revolution, without exception, has had a genocide. Outlook for the United States according to Deagel? 220 million or so, the exact same number Kamala Harris blurted out TWICE, at two separate rallies: "220 million Americans dead from coronavirus". They are telling us to our face, as their "contract with satan" requires. Inaction against it to them equals permission. In the end, in the history books, they'll have killed "no one", it will all be written down as a "coronavirus disaster".
Trump tweet indicates the nation is under the siege of corruption
That does NOT look good at all. And we all know it!
There were problems with the internet worldwide that were predicted and did happen. However, it appears the good guys won.
FULL HAND RECOUNT IN GEORGIA
Well, by now they have tossed Trump's votes so it probably will not matter. Other avenues must be pursued.
This REALLY makes me angry. That's how they initially flipped Georgia to Biden - by lying about a pipe break while they stole the election.
The Hill did a report (to the left here) about Trump's efforts to secure the election in 2020, quite conveniently long enough before the election for everyone to forget about it, including obviously Biden.
Project Veritas has released the FULL two hour interrogation of the postal worker AND IT IS GOOD, a WHOLE LOT worse and more revealing than I thought it would be.
This is an amazing bust.
3 New whistleblowers in addition to the one I have below have come forward to rat out Dominion voting systems. There's a lot on that topic today, (scroll down)
I have the numbers. They are easy. Take the total number of votes for both candidates and add them together. Then add about 8 percent of that for cast away ballots. The first number (both candidates added together) is the baseline of known votes, + about 8 percent for, you know - that Sonoma dumpster.

So take the first number of about 142 million votes and multiply that by .35 for the number of Biden votes, because that's actually what it is, according to my own polling on Voterig.com - Biden gets 49.7 million votes, and Trump gets 92.3 million votes, which is VERY CLOSE to what that tweet is saying. from there, multiply Trump's votes by 1.08 You get 99.64 million votes, and that's probably about right.
THEY KNOW.
RUMOR: Biden tried to call Mexico as "president of the United States" and Obrador told him to GET LOST.
That would make sense. My guess is among major nations (despite the crap you hear from the CIA and scamming media) Mexico is the least corrupt. Possibly compliments of the Car-b-q. If Mexicans can get ahold of corrupted leaders, they still get lynched. and Obrador openly walks in public. That says a LOT. Some people are mad at him for new taxes but my response is that Obrador is actually looking out for Mexico and they ought to be thankful. He's not buying the coronavirus BULLSHIT and that alone is a lot to be thankful for.

Lots of people are commenting on this, calling Mexico a corrupted sh*thole. I not only disagree, I'll flatly state that is false. Mexico is not even fractionally as corrupt as the U.S.,At least Mexico can hold a real election, compliments of the car-b-q. Mexicans DO NOT tolerate rampant corruption and that's the end of it, if you think they do you're a sucker for the CIA, and it is a fact that the cartels in Mexico are nowhere near as corrupt as the DNC. At least the cartels are not calling for "the complete removal of Obrador supporters from society" the way the DNC is saying about "Trump enablers" now.
New York Times: NO evidence of vote fraud in ANY state
I cannot get a picture of the front page of the New York Times for today to confirm this linked capture is real, but the main article did indeed post. Here is what the NYT probably looks like today no election fraud in their Nov 11 edition It appears to be legit. Wait and see I guess.
HERE IS WHAT HANNITY WAS BLOCKED FROM AIRING, AFTER HANNITY GOT BLOCKED Redpill78 had the whistleblower on.
Here is what Trump was talking about when he said Hannity was going to blow open the election systems on the 10th:

A woman who worked IT and was therefore helping with the voting systems witness massive fraud and was allowed to see it all when poll watchers were kicked out. She blows it open.
HERE IS THE PAGE IN THE OPERATORS MANUAL THAT SHOWS HOW WHAT THIS WOMAN SAID HAPPENS. The election software allows you to simply delete or add votes. It is right in the users manual, no hack needed.
This is what happens when you trust Democrats and don't even read their equipment users manuals. This is probably "classified".
Before they can justify mass genocide, they have to vilify EVERY LAST GROUP in any possible way that might be useful in assisting it, INCELS???? Come on now, this is obvious. If Biden or Kamala get in, they'll act on this B.S.
Very important video: Trey Trainor, the top election official at the federal level Has called this election illigitimate
There is a high probability Trump intentionally trolled FOX to destroy them tonight
He announced how Hannity was going to have all the details on how the ballots were rigged to steal the election:
And after that, nothing of the sort aired. So everyone tuned into Fox and got shafted again. As this turned out, when FOX found out who the guest was (the whistleblower mentioned above) they canceled and swapped in a hoax.
Man fills out winning powerball numbers in sharpie, and cries about how he was the projected winner and they took it away. After he takes it WAY over the top, it cuts back to the ticket and says it worked for Biden.
IF YOU HAVE TWITTER, RE-TWEET THAT TO EVERY PRO BIDEN FEED YOU CAN, INCLUDING BIDEN'S
BUSTED: PROJECT VERITAS - FEDERAL AGENTS SUPPOSEDLY "INVESTIGATING FRAUD" ARE IN FACT TRYING TO COVER IT UP. They are protecting the swamp and make that clear.
Update: to be clear: This is the guy the MSM said admitted he lied for a payout of $130,000 from the Republicans. The MSM lied, the federal agents lied. That is their interview above. That is how it went. And there's a second post interrogation video by him below, where he shreds them for lying and tells them to rescind their lies.
Continued:

Federal agents interrogated Richard Hopkins and during the (shockingly communist style) interrogation they made it PERFECTLY CLEAR they were protecting the swamp, despite not saying that directly. The aboved linked video is TELLING. Obviously I have that one saved, IT IS NOT OVER YET FOLKS the very people who are supposed to be uncovering fraud are hiding it, right down to the federal investigators. That video is PURE witness intimidation, rather than witness testimony as it should be. They are trying to bury the fraud, not investigate it. And that recording was PERFECT PROOF. Trump needs to see that.
POSTAL WORKER RICHARD HOPKINS DID NOT RECANT FRAUD TESTIMONY AND HE IS PISSED - that is also WELL worth a watch. I obviously have that one saved too.
So there are now two SOLID GOLD items, the federal agents interrogating him and him posting a video of him NOT recanting his story and instead him telling the Washington Post to recant their false reporting.
HUGE DROP: DNC worker came forward to Giuliani and blew open all the fraud.
This is one of those things where when too many people are in on a plot, everyone ends up knowing.

Lots of tasty tidbits today!

I was onto this a couple hours ago but did not believe this was true until I happened across this video which proves it is true. I filter a lot of stuff as bogus and this was not bogus. In fact, it is time for another snoopy dance.
Ok, so it really appears that during this election Trump DID indeed have a back door access to The Hammer and Scorecard, and he really was watching it in a scif. AND GUESS WHAT? That's probably how they kept hillary out, someone has the real keys to that system and it sure is not Hillary.
Keep in mind that NO ONE in the intelligence community is going to admit this, because that system is classified and it could hit everyone in America in the face and they'd still never admit it exists. Also, look at the expression on Pompeo's face - He is THRILLED they nailed the bastards, he would not have that look if he was not, at least for now, one of the good guys.
MC Hammer's song "Hammer Time, that has the most prominent phrase being "You can't touch this" is going viral now because it appears "The Hammer" did not touch Trump.
Trump has won North Carolina.
Another important note:
This won't just stay with the FBI or even Trump because other states are filing lawsuits against the ones that were illegally flipped. It is going to be very difficult for corruption to put this away.
It is official: FOX fired Judge Jeanine because she's not on board with the steal.
HUUUUGE!!! NEWS COMMENTATOR SAW ELECTION AUDIT INFO WITH INTELLIGENCE COMMUNITY INVOLVEMENT AND SAYS OH SHIT, F*CK LIVE ON AIR AND THEY CUT IT!!!
UPDATE: I reject the tweet this guy tweeted explaining that it was a "loss of feed", no, at about this time, when this was fresh, Pompeo really did say there will be a smooth transition to another Trump administration. This IDIOT, who did not keep composure on national television, saw that and knew it was GAME OVER.
Lots of new fraud busts
However, at this point the point is moot. They are already busted with the only question being "What is going to be done about it".
Comments for the night of the 10th -
It appears there may have been some substance to Trump having a back door into THE HAMMER, which allowed him to watch the election get stolen in real time. Trump fired the most appropriate people today, with hopefully more firings soon. Barr opened up a major investigation into vote fraud (don't hold your breath on that) but there are many other efforts underway also that won't be as corrupt, and as a result, many states are flipping to either neutral and there was a rumor that for at least a short time they flipped Wisconsin to Trump. There's an enormous problem with this particular stolen election, and it can be summed up in two words:
COMMON CORE.
There are a few other words, like "ludicrous" "greedy" "sloppy" and "arrogant" that are also in play, but "common core" are the words that are going to nail them. You see -

If you are going to steal an election as boldly as this one was stolen, it has to be kept water tight. That's not what happened. The IDIOTS they had hired really thought the dumpster was the end, and they threw TONS of Trump votes into dumpsters, under rocks, you name it - because they had childish intellects and could not figure out how that would backfire. They could not understand that posting brag videos about tearing up Trump ballots, WHILE THEY TORE THEM ON CAMERA, might backfire. Additionally, Giuliani's speech was held in front of Total Landscaping, which had security cameras that nailed the DNC dragging Trump ballots into a nearby crematorium and burning them there; an unexpected bonus that was the result of arrogance, sloppiness, and poor planning.

Anyway, that is water under the bridge, but what is happening now is PANIC and almost all the swing states are now finding enough Trump votes to flip their states to Trump.

But the plot gets thicker: As far as I can tell, in exchange for flipping the states Trump has lawsuits in now, plus federal investigators, the left is attempting to flip Texas and Florida to Biden because there are no investigations there. I don't know how they plan to get away with that but it was somewhat apparent, through "spidey senses" that they are going to pull that crap to keep the litigation going until Nancy can take the helm. I don't think that will work though. Flipping those states would only trigger more investigations, and now that Trump is on a war path it looks like he's going to make major ground. Biden has already been dropped to 259 electoral votes (out of at most 8 or so that he should actually have) but it's a start, and if it sticks it will be enough.

Meanwhile, Biden got ZERO cash and NO KEYS to begin his transition into the white house. That's HUGE. Another thing that is quite flagrant right now is how Fox News thinks they can win this election for biden just by cutting off anyone who mentions vote fraud, including today and days gone by with Judge Jeanine. Fox is so clearly in the trash they don't need to do anything more to stay there forever, they are going down like Drudge.

Now, I have no proof of this, but here is what I think is going on: Trump had access to a PILE of classified systems that watched the election fraud in real time. He cannot mention that because those systems are classified, which means they'll never be spoken of EVER. they will always be kept gray. But the way the left is now scrambling in panic over fear of being busted is quite telling. And it's not the woman who's dog voted that did it, it is not any video of fraud that did it, it is nothing of that sort that did it because that can all be swept under the rug with Roswell. However, actually being held accountable while CNN ignores it does make them fearful, CNN ignoring it won't keep them out of trouble.
There is something I'd like to mention that I keep forgetting and have been forgetting to mention:
In his election night speech (that resulted in the death of a computer when I tried to download it to prevent it from being buried) Trump explicitly and I mean explicitly stated that the election would be stolen that night "by a bunch of ballots that suddenly show up at 4 AM." And what happened? We got video and testimony of that exact thing - a couple hours after he said it would happen - ballots being rolled in at 4AM, ballots that flipped the vote. QUESTION: Did Trump know that because those stealing the election got totally surveilled and punked??? If so, HEADS ARE GONNA ROLL. And you'll never hear about it, because the FOX is guarding the hen house.
UPDATE: TRUMP DID PUSH THE LAWSUITS AND TRUMP DID START FIRING PEOPLE, GAME ON!!!!
You'll get frustrated watching this one minute video, but watch it to the end, wait for the punch line! Time is running out for this video, Twitter is definitely not going to let this one live.
If they succeed in stealing this election -
GOOD NEWS: TRUMP HAS STARTED THE FIRINGS.
So far it is limited to national defense, with the firing of Mark Esper. But there is more: Trump will now be holding rallies to fight the steal. This is BIG, and EXACTLY the right thing to do. Waiting for updates, ONE FIRING DOWN, 2 TO GO. This HAS TO be done if any battle to stop the steal is to be effective.

A woman had a service dog who was being trained at a local college and was therefore registered as a student. The dog's electronic ID tag had a number format that matched a social security number. The college had it's database searched by those who stole the election, they took EVERYONE at that college, registered them to vote, and voted for them, INCLUDING THE DOG. The woman then received an e-mail telling her that someone under her dog's name and age of 18 had voted and that it was a registered vote. She then checked her own legitimately cast vote, and it was not counted.

I obviously have this one saved and when it vanishes, I'll serve it from here.
I embedded this one, because it is just too preposterous:
If they succeed in stealing this election -
What is done on this site will shift from being conspiracy news to focusing on where Americans can go to avoid genocide. It will happen quick. If Kamala and Biden "suddenly deliver" on that wall that "Trump failed to put up", the only reason will be to lock Americans in so they are cornered and can be killed off. I am not kidding, it is THAT serious.

IF they succeed in stealing this election, it will prove that both sides of the government are so corrupt they endorse genocide. Communists ALWAYS commit genocide EVERY time they take over a society, with Russia and China being the best examples. Wake up call: America is on the edge of being the best example EVER. Their target? 220 million. And it will all happen with people in medical suits carting away "Coronavirus victims". They used coronavirus to steal this election and WILL use it as cover for the subsequent genocide. If Trump does not make it amongst all this obvious out in the open fraud, it will mean that a majority of the government does not care about the next election, because if you supported Trump, you won't be around to vote.
MARK MY WORD: If Trump does not file lawsuits TODAY, en masse, as stated, he has traitors in his immediate circle of association and it will be GAME OVER. Don't place bets on Giuliani being trustworthy, he's still lying about 911 and may have done the Hunter Biden leaks to make good and sure it is Kamala that gets inaugurated.
If Trump does not file lawsuits today, and gun owners do not respond by the end of November, you had better pack your bags if you are a registered Republican because they will definitely be coming for you and their stated objective, posted right here on this page, with them saying it live on video, is YOUR ELIMINATION to prevent you from ever voting again. You have been warned, you will HAVE TO flee the United States.
Here is the reality we are living in: After the most rigged election in history, the only people arrested were poll watchers who tried to stop it. LET THAT SINK IN.
PAYPAL IS LIKELY RUNNING A FUNDING DELETION SCAM AGAINST CONSERVATIVES
I posted the following on this front page, and magically all the captcha bullshit on Paypal vanished! IF YOU TRIED TO DONATE AND IT IS NOT SHOWING ABOVE, RECLAIM OR AT LEAST CHECK WHAT HAPPENED, THIS ONE WAS OBVIOUS.
Here is how it works: Suddenly yesterday, I started having to pass captcha security checks, a minimum of 2 at every login and up to 12. There's no reason for this other than to stall login long enough for someone else to ride your original log-in into your Paypal account, and "take care of business". When they finally allow you to pass the captcha checks it is because your balance will be zero.

And when I tried to bitch about this, there is no way, Paypal has it all contained where you can only issue a complaint about someone else, and never tell them there is anything wrong with them.
If you depend on Paypal and suddenly it's all captcha it means you are being robbed, with your first login attempt before captcha simply being a warning someone has to hit your account and take care of it before you get in. They'll stall you with as many captchas as it takes for them to finish. That is one way communists are going to destroy their opposition.
I FINALLY got a way to "secure Paypal," and Paypal responded by throwing up a multitude of captchas for every log in, to give someone time to empty the account. That's a FACT, and after posting this, the captchas vanished!
ANOTHER VIDEO THAT PROVES WHY THEY ARE DELETING ELECTION NIGHT COVERAGE SURFACED:
This one shows a 19,958 vote flip from Trump to Biden live on TV. Trump's dropped by 19.958 while Biden's increased 19,958 which proves software was managing election theft.

The software keeps total votes consistent so they match, while they switch votes from one to the other. This is exactly why they want all the election night coverage buried. This cinches it. GAME OVER.
The previous post about Kushner "encouraging Trump to concede" may have been an error, that part of it anyway, the rest still stands.
Mexican President Lopez Obrador refuses to acknowledge Biden as President.
I told you he was good!!!
Evening October 8: Is Trump a master of political Pokemon??? He says HE CAUGHT THEM ALL
A MESSAGE TO THE MORMONS: YOUR OWN PROPHET STATED CLEARLY THAT IT WOULD BE THE BRETHEREN OF THE CHURCH THAT SAVED THE CONSTITUTION WHILE IT WAS "HANGING BY A THREAD". TRUMP DID THE DIRTY WORK, YOU JUST NEED TO CLOSE IT UP. An EXTREMELY disproportionate number of Mormons work in intelligence, including the CIA and FBI - AND OTHER agencies that can make a difference, it might have to be YOU that saves the constitution. NOT DOING YOUR JOB AT THIS TIME, WHEN TRUMP NEEDS YOU TO SAVE THIS CONSTITUTION WHEN IT IS HANGING BY A THREAD WILL DEFINITELY BE YOUR HELL SENTENCE, DO YOUR JOB. BE THE HERO YOUR PROPHET SAID YOU'D BE:
DO YOUR GOD GIVEN JOB, EVEN IF IT MEANS VIOLATING YOUR CHAIN OF COMMAND AND TAKING OUT THE TRAITORS FROM WITHIN, GOD PUT YOU THERE FOR A REASON. THE FUTURE OF THIS COUNTRY IS VERY LIKELY UP TO YOU.
HEY MITT, I THINK YOU ARE SH*T. ESPECIALLY AFTER YOU WERE THE FIRST TO CONGRATULATE BIDEN AND TOLD THE WHOLE COUNTRY TO SUPPORT THAT FRAUD. WANNA GO TO HELL? YOU ARE ON YOUR WAY DOWN BUDDY, THE CHURCH SHOULD KICK THE DUST OFF IT'S SHOES AND SEND YOU PACKING. You cut that thread a little bit thinner. YOU HAD BETTER THINK TWICE.
We are indeed at a crossroads where the GOOD Mormons just might make the difference. I firmly believe that's why the totally corrupted hell spawn that became Mitt was the very first to congratulate Biden and told Americans to stand behind HELL FRAUD BIDEN, - to have influence on the GOOD Mormons who are strategically and disproportionately placed to save this. Don't fall for piece of shit Mitt. DO NOT FALL FOR MITT.
BLOATED TOAD: SPREAD THIS MESSAGE.
Best social media post of the day was by Donald Trump Junior:
We went from 4 years of Russia rigged the election, to elections can't be rigged really fast didn't we???
RUMOR:
After Trump made it PERFECTLY CLEAR he "caught them all" Georgia suddenly found 132,000 disqualified ballots that may hand Trump Georgia. And low and behold, Wisconsin suddenly started talking about "improper procedures" that may hand Trump Wisconsin too! And at about that time, Pennsylvania found another "software irregularity" that was very favorable for Trump.

FACT: The actual vote totals were probably somewhere around 25/75 in favor of Trump, and despite the rigging to hide that he was WAY AHEAD when they suddenly shut down the polls and it just is not going to go away. Consider who stole this: Total lowlifes that were often illiterate. LET COMMON CORE BE A VICTORY, it may well be that the common core curricula spawned such incompetence that it WRECKED THE STEAL.
You don't need 75 percent to prove a steal, this alone ought to do it: The numbers below were when they pulled the plug on the theft sofware which was overwhelmed and they then had to shut it all down to manually steal the election. It is highly probable the theft software had failsafes in place that stopped it from committing obvious fraud (because it was written for stealing foreign elections and it could not be completely obvious) and the common core crowd said TO HELL WITH THAT and manually stole it.
Now, there are rumors that there was a SCIF not far from the white house and that Trump was there watching the software do the steal. This would be possible if the software, which was obviously encrypted, had a secret back door it always reported to, and as President, Trump knew about it and watched all this happen while the Dems thought they were pulling a fast one. That's how he would "catch them all" in ONE WHACK.
If that be the case, you'll never hear about it, because that software is supposed to be "classified", and even if it is only "classified" when in reality it's total public knowledge, they won't utter a peep about it.
UPDATE: THEY ALREADY PATCHED THIS, BUT THE DAMAGE IS DONE, THERE IS TONS OF PROOF THEY HAD IT THAT WAY.
You have to say "The President" and not "The President of the United States", if "Of the United States" is included, it will say Trump. But there's one big problem here, it never mentions Biden. So obviously they are going to FLUSH Biden ASAP, he's not even in play. Consider who owns SIRI. They know, and already programmed SIRI to say that.
Here are more videos of this:
https://www.youtube.com/watch?v=UfLd2NMymOA&feature=emb_logo
https://www.youtube.com/watch?v=qaaIYSL337M&feature=emb_logo
https://www.youtube.com/watch?v=O_OAxvTQs_E&feature=emb_logo
https://www.youtube.com/watch?v=qBvvjhPIpXg&feature=emb_logo
https://www.youtube.com/watch?v=bLAiBF0Rrt0&feature=emb_logo
SO THERE YOU HAVE IT, COLD HARD PROOF THEY NEVER INTENDED TO PUT BIDEN IN. I downloaded ALL OF THESE.
Morning, October 8 update:
This will be short but you'll spend time on it no doubt. I spent an enormous pile of time getting proof of election theft videos posted here because they'll certainly all vanish. THESE ARE ALL THE UNIQUE ONES I NEVER SAW BEFORE. These were not from alt media, they are all random posts by whistleblowers. The goal of this is to post SO MUCH fraud no one can deny it, to foment the rage people are going to need to turn back a genocide. Yes folks it is THAT BAD. This video proves there WILL BE A GENOCIDE, it is BY FAR the most important one of all.
PLEASE DOWNLOAD THESE VIDEOS AND WATCH THEM FROM YOUR COMPUTER, without the computer I need to do the compression these will kill the server, and nothing else I have can handle the software for that and obviously, when you download these, POST THEM ELSEWHERE. We have GOT TO stop a genocide that is indeed coming if Trump is ousted, just like the Deagel web site has stated for years.
Right click the links and choose save video, or simply right click the video on your desktop to save it before you close it. Here is a VERY important video that proves Arizona intentionally forced Trump voters to use sharpies, which nullified their votes, and they were not permitted to use anything else. When they tried to use pens, poll workers grabbed the pens out of their hands. This video is total proof of election fraud, WHEN PEOPLE STARTED HANDING OUT PENS, THE POLLING STATION TOOK IT OVER THE TOP AND CALLED THE SHERIFF TO GET THEM OUT OF THERE SO THEY COULD CONTINUE FRAUDING THE VOTE. Yes, it was so bad they called the cops to ENFORCE the fraud!!!

Here is a capture from the woman in the green camo shirt who accepted the sharpie, knew it was wrong, checked her vote, and below is a capture that proves it was indeed canceled.
The above two items are so damning there's no getting over it.
Here is a video of Republicans getting expelled from a vote counting location
HERE IS WHY THEY WANT ELECTION NIGHT COVEREAGE DELETED: Because in THIS VIDEO there are poll workers opening ballots, looking at who the vote was for, and throwing them straight in the trash. Trump did not win by 3 percent, from the sheer volume of what they are throwing away, it proves he took this election by 80+ percent. 3 percent is what the vote rigging software kept it within, until they finalized the steal and took even that away.
Here is a video I did not see before this morning, where Where poll watchers were kicked out and the windows blocked off.
I have a large numbers of additional videos I cannot post because they will eat the server, when I replace the computer that compresses the videos well they'll be posted.
FOX, CNN, AND ALL OTHER MSM OUTLETS HAVE DELETED THEIR ELECTION NIGHT COVERAGE.
YES, THEY BLOOPERED IT AND WERE LIVE DISPLAYING THE OUTPUT OF THE ELECTION STEALING SOFTWARE IN REAL TIME, AND WHEN IT STOLE VOTES, IT SHOWED UP RIGHT IN THEIR BROADCASTS. So what do you do? You delete your election night coverage, that's what!!!
I AM GOING TO SAY IT LIKE IT IS: IF YOU RUN A FORUM, BLOG, OR ANYTHING ELSE AND YOU ENCOURAGE NON-VIOLENCE AT THIS TIME, YOU ARE A PIECE OF SH*T.
YOU ARE A PIECE OF SH*T BECAUSE RATHER THAN STICK YOUR NECK OUT YOU'D RATHER ENCOURAGE PEOPLE TO SIT BY PEACEFULLY WHILE THE COMMUNISTS TAKE OVER, AND BURY THE NEXT GENOCIDE IN THE COVID STATS. THAT'S WHERE WE ARE HEADED IF WE SIT BY PASSIVELY AND LET THEM TAKE THIS COUNTRY VIA FRAUD - STRAIGHT INTO THE COVID STATS, JUST LIKE DISSIDENTS IN CHINA.
THOSE ENCOURAGING NON-VIOLENCE ARE PIECES OF SHIT BECAUSE: While you post all about "The Hammer" and how it has EVERY TRUMP SUPPORTER flagged, bagged, and tagged for extermination YOU STILL say "NO VIOLENCE DISCUSSED HERE PLEASE, Oh, I'm worried about my @SS." QUESTION: Is that how we avoid getting genocided? By worrying about where our @SSES END UP? Can you avoid getting your nation stolen and the subsequent communist genocide by sitting around talking about how bad it is to use violence to put things right? What patriot EVER put things right by worrying about his own behind? Certainly not YOU, if you tell everyone to shut up about it. Anyone who encourages "peaceful protest" rather than putting things right at this point in history is just marching lemmings off a cliff.
WAKE THE HELL UP PEOPLE: IF BIDEN ACTUALLY STEALS THIS ONCE AND FOR ALL, VIOLENCE WILL NOT BE "AN ANSWER", IT WILL BE THE ONLY ANSWER OR YOUR FAMILY, WIFE, AND KIDS ARE GOING TO BE FED TO THE PIGS JUST BECAUSE "THE HAMMER" SAID SO. WTF ARE YOU MADE OF IF YOU LET THAT HAPPEN? IN SHORT ORDER, YOU'LL BE MADE OF PIG SHIT.
I am NOT going to sit here and cower away from reality. If I lose my behind over saying it like it is - if I get carted off for this, one thing is certain, on my way out I won't be the only one gone, the other side WILL TAKE LOSSES. And that's how the tree of liberty gets watered. At this point in history, THAT particular tree is so parched it has been reduced to stubble.
AFTER THE MSM DECLARED BIDEN THE WINNER, Rudy gave a TOTALLY impotent press conference
All he did was have poll watchers say they were not allowed to observe, and he brought NOTHING to the table. I got so fumed I just shut it off, I don't think Rudy is really on team Trump.

FACT: Trump has had single tweets that were better than that press conference, and Trump's kid has had tweets 5X better than anything Trump has sent out. I got the vision in my head of Krusty the Clown, after he saw the Russian version of Itchy and Scratchy because he was out of money and could not afford the real thing. You know, where he had the cigarette hanging from his lip and said WHAT THE HELL WAS THAT???

Trump had damn well better present the real stuff that anyone in the know has or WE ARE TOAST.
UPDATE: Trump just released this:
"We all know why Joe Biden is rushing to falsely pose as the winner, and why his media allies are trying so hard to help him: they don't want the truth to be exposed. The simple fact is this election is far from over. Joe Biden has not been certified as the winner of any states, let alone any of the highly contested states headed for mandatory recounts, or states where our campaign has valid and legitimate legal challenges that could determine the ultimate victor. In Pennsylvania, for example, our legal observers were not permitted meaningful access to watch the counting process. Legal votes decide who is president, not the news media.

Beginning Monday, our campaign will start prosecuting our case in court to ensure election laws are fully upheld and the rightful winner is seated. The American People are entitled to an honest election: that means counting all legal ballots, and not counting any illegal ballots. This is the only way to ensure the public has full confidence in our election. It remains shocking that the Biden campaign refuses to agree with this basic principle and wants ballots counted even if they are fraudulent, manufactured, or cast by ineligible or deceased voters. Only a party engaged in wrongdoing would unlawfully keep observers out of the count room - and then fight in court to block their access.

So what is Biden hiding? I will not rest until the American People have the honest vote count they deserve and that Democracy demands."

My comment: That's just great Trump, you had damn well better at least bring the beef we all already know about!!! Giuliani absolutely SUCKED.
Actual vote totals (approximate to within 2 percent on Biden:)
Trump: 73.5 million.
Biden: 25.9 million.
Those are the real numbers, MINUS Trump votes that were tossed and never accounted for, Trump might have over 100 million but Biden definitely got 25.9 million. We'll never know the actual number of Trump votes because so many were thrown away.
The CIA leadership should be publicly lynched for their vote theft software, and the rest of the CIA should be disbanded and blacklisted from employment for the rest of their lives. They belong on the streets rattling cans, and if they did, they'd starve because NO ONE would drop a dime, including leftists who will only do so with other people's money.
That said: TRUMP RALLIES TODAY IN ALL MAJOR CITIES
This has gotten censored. I mentioned this last night also. Social media is attempting to block this from happening. There are supposed to be widespread Trump rallies/protests against vote fraud.

I have done nothing but pay attention to this situation, and here's where we are at as of Saturday morning (without you having to go and surf 50 sites to get this -

The watermark story is a probable hoax, however, there were other sting operations underway and Biden is hopelessly, irrevocably busted. That's
why no winner has been announced. I really don't know where this will all land in the end but there is such a mountain of fraud this time that it was like trying to contain the aftermath of a nuclear blast, containment is totally breached. There are even videos of CNN broadcasts that prove there is fraud, where numbers for the Republican candidates go DOWN, live, on screen, with votes vanishing, ON SCREEN, right on CNN. This time it was BAD folks, there's no way out of it. Now there are (according to my estimates,) 48.1 million false votes for Biden. And they did not stop there, they went to steal the house and senate also. So it's not just Trump that will blow this open, tons of Republican candidates are on stage for this sh*T show and it looks like it is going to be good.
However, no matter how good it is people must keep in mind the outcome is not guaranteed to be righteous because we are indeed in the middle of an attempted communist coup, and as I said in the subsequent post, that's the key factor in this - is America sufficiently subverted for the communists to simply brush all of this obvious fraud away? We are going to find out. I strongly suggest that if you can, pack your picnic basket and head into the city (preferably your state's capitol) today and join in the protests.
You know what I'd like to see? An ocean of guns, with everyone screaming: "This protest is peaceful, for now!". THAT would send a message!
There are over 50 rallies, but these are especially important:
MI - 9:30am TCF Center (Detroit)
ATL - 12pm State Farm Arena
PA - 12pm PA Capitol Harrisburg
DC - 1pm RNC Office 320 1st St SE
Be ready to change locations on a moment's notice, this is organized rag tag due to censors and we need everyone in the same spot in each city.
FRIDAY NIGHT UPDATE:
Biden spoke and seemed lost. That's because Supreme Court Justice Alito gave an order to take away all votes that showed up in Pennsylvania after 8 PM on Tuesday and segregate them out for inspection by federal authorities.

There's a big problem for the Dems, and that is that they DID commit fraud, HEINOUS fraud, by the numbers they drafted up approximately 48.1 million fake ballots for Biden and they got busted doing it. Poll workers are ratting them out, the post office is ratting them out, and hopefully a watermark will finish ratting them out.
There is an EVEN BIGGER problem for US:
It is called "The great reset". This is something the communists want to do to destroy everyone and have EVERYONE begging for salvation, with communism being the savior. They were putting it into action in Europe with tons of lock downs and the destruction of society wholesale, all accomplished via the Corona scam. If they fail to steal this election then Trump will be the end of the "great reset", this all has to happen within a time sensitive window before everyone wakes up to it, and if America is led by a president that wants to prevent that, the communists automatically lose.
Do you think the Communists, who have had at least a 100 year plan to take over the world are going to let that happen without a fight? HELL NO.
The world became aware of their plan before they were really ready to smash it down, so they are doing all they can to smash it down now before the optimal time and things are not looking good. They are hitting serious resistance. If they fail to keep Trump from a second term, they can kiss it away, GAME OVER.

What we will witness now is not whether or not Trump is the rightful president, what we will instead find out is if there is enough of the fabric of America remaining to fight off this evil after they have spent so many years infiltrating it for times like these. I can't say we'll lose, I can't say we will win, but I CAN say I am damn nervous.

It was a very good sign to have the supreme court side with reason at this time however, and If I was Trump I'd at this time say SEE THAT? Hey, the rest of you in states that are stealing this, LISTEN UP: There WILL BE CONSEQUENCES if you keep trying to steal this but if you stop now and just be honest, we'll focus on securing the system for the next election rather than throw all of you in jail. Keep it up, and that's where you are going.

I really wish Trump would simply make that announcement.
Trump was (apparently) supposed to give a public announcement today at 5 PM Eastern and all the news agencies plus Twitter and the rest of big tech did not allow it.
There are supposed to be Trump rallies in all 50 capitol cities this week end where vote fraud will be protested, but all communications for organizing them are being censored.
This is a real live coup happening RIGHT NOW.
Other than that -

There have been no significant developments as of 4 PM CST to change what I have written below, and I have kept on top of EVERYTHING. Same fraud, same scamming media, ZERO busts, - apparently an attorney from Utah has left for DC to help Trump fight the election theft, and Trump received 500,000 from a donor to fight it but that's all for now. Trump is supposed to be talking to the public soon but they'll probably just censor it and Trump badly needs to get a message out to the people. Trump should deputize ever American gun owner and give the call for a 2A clean sweep of the FED. Should. I can dream.

We are prepping as well as possible at this time.
NO MATTER HOW THIS ELECTION IS "DECIDED"
Trump WILL still be the legitimate president. When the hell did the Democrat asshats and scamming media decide the Constitution didn't apply to them?
The 2A was written with exactly this kind of thing in mind. That should scare the ever living hell out of the types who stole this election.
Here is exactly the problem we are having: The DNC no longer fears the people and as such has broken the social contract. It is time to clean house.
WATERMARK BALLOT POST REMOVED BECAUSE IT IS A HOAX
WE ARE SMACK DAB IN THE MIDDLE OF A COUP, AND CIVIL WAR IS NEEDED NOW.
Either you will enforce a lawful and honest election or you will not, there's no in-between.
The media is cutting off Trump when he points out the obvious fraud and calling him a liar. IF there was a watermark, it got subverted. I am now going to make preparations for the fall of the United States and the coming "great reset", where if you are going to get through it without getting your DNA wiped out by a fraudulent "vax" or without taking the mark of the beast, you're going to have to be living in a shack in the middle of nowhere where no one cares, and surviving off chaff and the eggs of however many chickens you can farm.

That is where we are at, if people don't pick up their guns and put this right it is OVER. And I'm not talking "Next week sometime". Remember who the target has to be, I am not going to keep repeating that.

Sorry if you linked through to the BULLSHIT about the watermarked ballots, though I have no solid proof it is bullshit, I am calling it because all we have EVER GOTTEN IS BULLSHIT.

Face it: If they are so brazen about the steal that they are cutting the president off mid-speech and calling him a liar, WE ARE THERE, you had damn well better prepare for war.

It will be impossible to set up a militia with the CIA infiltrating everything, whatever method you choose you have to do it totally as lone wolves or well established groups of no more than five who have absolutely no contact with any other groups. If this kicks off the way it should, you'll meet people who are in the fight with you. Work from there.

Guns are great, but if you have to lone wolf this, the absolute BEST TOOL OF WAR will be a water balloon launcher that uses surgical tubing to throw a moltov coctail 200+ yards. With that, you can go down a parkway at 3 AM and light the proper communites - the ones behind this coup, RIGHT UP and no one will know where the hell it came from. When you do this, don't be a brainwashed fool who tries to turn himself in like Kyle did!!!

Second place as the best tool of war will be a spud gun that throws moltovs. That's noisy, dangerous, finicky, hard to conceal, and is likely to rupture the bottles during launch. Obviously you need to make it fit whatever bottle you'll be using and then practice with the right sized spud. The plastic pop and water bottles will break like glass when they hit, (I know this, I practiced getting them up to 200 or so MPH with compressed air, they really do shatter.) Use sparklers or other fireworks as fuses because a rag will go out. Don't just launch the fuse, send the whole firework.

You will not be able to shoot into the gated communities. You will need what is basically a mortar for that.
This type of setup is exactly why they want to ban gasoline powered cars. They know gasoline is an awesome weapon. There is absolutely no other reason for them to want gas powered cars gone, like guns, they want this weapon removed from society. Now you know how to use it and live to do it again and again. They feel safe in their gated communities, knowing you'll never be able to shoot them there. That's why, after they cut off the president the way they did, I posted exactly how you can reach into their communities from the outside and put things right. Be well organized with everything assembled so you can launch launch and launch, and then be gone in 2 minutes.
How you find these A-holes:

Your local high school administrator is one, they have infiltrated all the high schools, so there is one you can track back to the main hive. Ditto for the universities. Any professor that teaches "women's studies" is either one, or controlled by one. Arts and humanities departments are totally inflitrated. Follow them back to the hive. Every last family court judge in the entire country is one of these people, as are many of the lawyers. There's another way to track them back to the hive. I am not going to mention what community this is, I'll instead say other ways to find them - Usually ALL city council members are these people, there may be a few that are not but that's another good tip and this is true even in small towns now. Virtually all the library administrators are these people and they are there to make sure history and anything else that could provide people a reference is expunged. Follow them back to the hive. It is highly probable your local police department is run by these people, and it is guaranteed to be them in areas where they just sit and watch Antifa. Follow them back to the hive. ALL news channels, including local TV and radio stations are 100 percent run by these people as is your city paper, FOLLOW THEM BACK TO THE HIVE. Seriously. Park by your local TV station and wait for them to leave and follow them at the end of the regular work day. You'll be led straight to the hive. Obviously anyone involved in (managing) the election will lead you back to the hive. The election offices need to be attacked NOW, not tomorrow. Not the polls, I mean the headquarters. This shit needs to be SHUT DOWN NOW.

When you find their hive, leave your guns at home. They will be ineffective absent a giant militia based team effort, and that can't happen with the CIA infiltrating everything. However, one guy on a bicycle with a water balloon launcher and back pack full of bottles can make a hell of a scene, and then quietly slip away . . . .
Only fear of retribution will stop these people at this point, people had damn well better give them a reason to fear or we are all TOAST.
They were forced to attempt the great reset sooner than they wanted, and "coronavirus" and the destruction of society they can accomplish with it via shutdowns and quarantine is their weapon. They are not guaranteed victory because too many people are awake. You had damn well better defend your country by taking out EVERYONE who pushes the Coronavirus bullshit, or they will win.
Either you will enforce a lawful and honest election or you will not, there's no in-between.
MY MESSAGE TO PRESIDENT TRUMP
Preface not part of the message: Given that this site is only about 1/3 the size of Drudge (with Drudge in dilapidated shape now) chances are the president will not read it here. But this ought to at least get out there, I have enough reach for that and perhaps he'll pick it up elsewhere -

DO NOT GIVE UP. Never in the history of voter fraud has there EVER been so many clear cut cases of perfectly documented fraud. It's not spurious fraud, it is in your face, on audio, on camera, right out in the open for all to see undeniable FRAUD. If the supreme court is not as corrupted as I think it is, you will win this in court.

In the past, the left had excuses - "A voting machine screen was not calibrated right" or "this only happened in one small instance that we assure you was isolated," or "That was only an error". It simply is not that way this time.

This time, we have documented video proof of poll watchers being denied access. That's unprecedented. We have never had that before.

This time, we have documented audio proof of election worker training where they are explicitly instructed on how to get away with fraud. That's more than unprecedented, that's an absolute nuke on the national conscience.

This time, we have testimony and proof the U.S. postal service back dated disqualified ballots that were dumped in bulk AFTER election day and then counted as legit ballots. Another nuke, right in the heart of the DNC.

This time was the only time in history where so many states simultaneously quit counting ballots in a way that made it obvious they all got instructions from central command to shut down so they could steal it, and they went home EARLY to boot, only to have ballots jump by one candidate by 100,000 votes the next day without a single one for the other - that's an easily provable statistical impossibility that will never fly in court. That's an automatic judgement in your favor.
In the past, it was difficult if not impossible to prosecute the fraud because it was kept clean enough for there to be no legit proof. That's not the case this time, GO FOR IT TRUMP, BURN THEM ALIVE because you certainly have what it will take to do exactly that.
My advice to those who are attempting a coup on America: RUN. You had damn well better run because THIS TIME the gig is up, you're busted, and your best future will be to take your ill gotten gains and live like kings in a shithole country. Perhaps you're hedging your bets you'll win. To that I say: I would not enjoy risking it with those odds, when I still had a chance to run!

Dear president: You have stated in the past that they are not after you, they are after us. And with them explicitly stating that after this "election" they are going to remove every one of your supporters from society what you stated is obviously true, for our sake, for God's sake, do not let them steal this. We need you.
Preface to the following: How this ends is PERFECT, killing the people in the deep state is NOT THE ANSWER unless it is the only way forward, there's actually something far better that can be done to get them to behave. Guns should clearly be used only when absolutely needed - there are other things that will scare the criminals in the deep state a lot more than getting shot to death. And a lot more people would be able to cope with that than actually killing someone. So from this point on, with this site, I'll focus on SENDING A MESSAGE they survive receiving.
A disclaimer for the above: There are times when it is perfectly OK to use guns and other weapons to put things right, and this is one of them. I am certainly not telling people to put their guns away, at this point that would be a huge mistake.
Today I am changing where this site sits on the topic of warfare. After considering a few things, and who the enemy is, killing them is not the right way to send a message. Read this to the end, I know I have the answer.
NEW INFO THIS MORNING: THE STEAL WILL FAIL.
There is now so much evidence and proof this election was stolen that no amount of censorship can bury it. The goverment needs the consent of the governed to survive, and clearly they don't have it. 30 percent leftist nit wits cannot save Nancy and the rest of the deep state all by themselves, they need the cooperation of the bulk of society and quite frankly, the genocide is going to be difficult this time. And now I am going to say some reality and give advice that will scare those stealing America:

The average Joe American just wants to live his life without trouble, and without "being violent" to put things right. The average gun owner is actually useless and the gun will never be used because the average gun owner is too brainwashed by all the "non violence" BULLSHIT to ever use it. However, there are a lot of things they can still do to screw those who stole this election (or at least tried) should they succeed, even if they don't have the moral fiber it takes to blow the brains out of a storm trooper that's taking their neighbor to the camps -
HERE THEY ARE:
#1. DO NOT PAY TAXES. Are you kidding me? TAXES? WTF for? Come on people, all you'll do by paying taxes is feed the monster that stole the country, which will then take what YOU PAID and return every dime you sent in by destroying you. What would the corrupted officials do if people even stopped paying property tax? Crash, that's what. There's no reason for property tax and no allowance for it anyway, it's just something we all went along with while being conned. Now all it does is stuff corruption to the rafters. They can't kick everyone out of their homes, they'll destroy their base, and enough people will shoot anyway -

#2. Let all registrations expire. ALL OF THEM. And then live your life like you have them. And when the fines come, don't pay them. And if they threaten jail, say GOOD, because you're also going to have to jail Tom, Bob, Joe and the rest of the country that is not criminal, and when you do that you'll rip the rug right out from under yourselves. No one is going to feed you but US. Ditto for the IRS. If these people actually seize power, they'll dream of ways to destroy you that are worse than the IRS, giving them the funds to do so will be WORSE than the consequence of not paying taxes.

3. Immediately jerk your kids out of school. And don't put them online either. Set up associations where parents teach each other's kids in groups of 10 or so. The parents will have no trouble at all out-performing the schools drastically anyway. Even if you teach the kids NOTHING, the only thing lost will be the brainwashing the schools do. That is literally all they do, they don't teach a damn thing and today's kids simply pick up information and learn from the web. The motivation to use a tech device is what is teaching them to write, the schools sure as hell do not.

Once the majority of the people refuse to cooperate with the "public education" system, enough A-holes will be shot by people who are not brainwashed morons when the NOT ELECTED government tries to steal the kids via CPS over the kids not being in school to put a stop to that too.

4. Do not cooperate with ANY gun regulations, and I am talking NOT A SINGLE ONE. Sell all firearms and keep a record of the sale, including the first name of the fake buyer and nothing more. SELL EVERY DAMN GUN YOU HAVE TODAY, while in-person sales still don't have to be recorded. Lose the rest of them "in the lake". Have a nice gun safe that is empty to prove you sold them. Only a few people have the courage and morality it takes to shoot a tyrant, so it will take an enormous pile of people owning guns to hit the critical number of those to make it too dangerous for the state to become what Nancy and Kamala want it to be.

5. Prepare your most fuel efficient vehicle for war. The best prep you could possibly make would be to have the tank as full of gas as possible, plus have extra gas cans in that vehicle, plus cash to buy gas with, keeping it all topped off until the gasoline is cut off to stop you from getting more to transport yourself to wherever the battles are. The great ace of the war will be the guy who has the Geo Metro hatch back and 50 gallons of gas. It would take forever to stop that, absent blowing it up and if it comes down to that a pickup won't be any better. The sniper. With a Geo Metro. Bad combo for the deep state.

I have to repeat this - lots of people think what they need is a hummer or some other gas sucking pig. Such vehicles offer NO advantage in urban warfare, the guy who's going to win drives a Prius.

Other vehicle preps that are critical will be blankets in that vehicle. The light fuzzy ones, which keep you warm better than anything. Throw in the $20 wal mart tent and NOTHING LARGER just in case you have to abandon the vehicle and run for it. Then you'll be REAL thankful the blankets are light and fuzzy. If you have a large tent or a heavy bed spread you're going to discover just how useless it is when you have to carry it, let alone pitch it and then sit there like some giant icon visible to eternity and beyond. The little tents (and ultralight blankets and sleeping bags) will work better than anything. And no, a sheet of plastic will not replace a tent.

I would not bother with more food than whatever will go in the car easy, with a special back pack loaded with carbos to quickly grab if needed that will only last a few days at most. If you can't get food and you're fighting a war, starvation is your least worry, if you last long enough to starve to death and you were effective the whole time, you surpassed everyone else by leaps and bounds.

SO:

1. Don't pay taxes.

2. Don't register anything or license anything anymore.

3. Get your kids out of school.

4. Sell your guns and make damn good and sure you docmuent the sale clearly, while being totally obscure about who "bought" them. The lake can be there for one or two and don't bother "selling" any you know are not registered, why bother?

5. Seriously prepare your most fuel efficient vehicle and don't bother with the big one unless there's a damn good reason to. One more thing - a gun gives up your location instantly. Avoid using them where possible, and when you do, one shot, one kill, leave. Due to the fact that you can be sneaky with fire, fire is a much better weapon. I am confident the deep state wants gas powered cars banned because they know that, there's no other serious reason they want them gone.

Any government needs the consent of the governed. You were guaranteed to be "served" by those you put in power. After a coup like this, your a FREAKING MORON or total fool for complying and giving the usurpers power by cooperating with them, my god, why would anyone do that?
A few updates
I got the main computer working again by replacing the SSD, flashing the BIOS, and re-installing the operating system but by that time Trump's speech was irrelevant in the face of all the other fraud that is going on . . . .

A girl with a Chinese name (may have) phished Claudia for ALL her info and I was suspicious she was setting up a Paypal account closure case against us and I stopped it in the knick of time . . . . one more error would have done it . . . .

I saw the Mex news show "protestors" screaming "count every vote, every vote counts" and it made it clear: They are proud of their evil and their dishonesty, they revel in the filth of the portion of their existence THEY created and there is only ONE WAY to deal with those types, and it is not pretty. Unfortunately, good people can't comprehend that level of evil and get suckered by it easily. I see no good way out of this, they absolutely will steal it and today Biden set up his transition office and web site. They know this is going to succeed.

I have such a sense of impending doom despite being in an enviable position compared to most people. I toss and turn in agony watching the death of America and no doubt so many people I care about who are caught up in this and will definitely be expunged from existence. I cannot believe such filth and rot is getting away with this. And it is totally illegal, totally unconstitutional and not ONE lever of power is being pulled against them. It is perfectly clear America fell to communism before Trump was even elected, and they simply waited out his term and now it's full corruption ahead.

I am warning people - if you are stuck where you are and are powerless to escape your situation you need to turn to God now so you'll at least be either raptured or die in good condition. I am sure there are plenty of people out there who are going to think I am full of it, but it goes the exact same way in every communist revolution - you get people like me sounding the alarm and shouting from the roof tops that it really is over and to prepare, and few do. Then the axe falls and millions are dead. This time won't be any different, being "American" is not going to change the history of how communists take over and get it done.

I told Claudia to stop giving out info to all but the most trusted people who support this site after that Chinese girl phished her a good one. Claudia did not catch onto it but I noticed as soon as I went through the correspondences with her. We have to be VERY careful here more so than anyone because we are the tip of the spear. You cannot take being so with a casual attitude during a Bolshevik revolution.

I see these IDIOTS on TV, rigging the votes, screaming their hatred for America, burning, looting, committing treason and shake my head - they do all that and do not even realize the very communists they are ushering into power are watching their every move and will EXPUNGE them once the objective for what they are being used for - destroying America - is accomplished.

FACT: No communist wants a deceptive, destructive, thieving, treasonous, lying A-hole for one second beyond the time their usefulness is exired, the moment it is, they'll be thrown into the wood chipper and served to the hogs by the very same communists they adored. Communists know full well that those who destroy their countries will also subsequently seek to destroy whatever it is replaced with and they want none of that for themselves. Those who hate America can revel in their filth for now and enjoy being a tool I guess, a disposable tool, no communist is going to EVER trust someone who shitcanned their own neighbors and very often their own families. The communists already see them for the filth they are and when time is up, they'll immediately meet the same fate they sent everyone else to.

How stupid they are.
Here is what they are doing:
They are "counting new ballots" at an unbelievably slow pace (there's no excuse to not get them all counted today if they could not yesterday, it is, after all, the same country we have always had) but the problem is that they have to create the fake ballots to rig the election with, so the "counting process" is painstakingly slow -

They are smart about how they are doing it, having both candidates creep upwards in the totals while Trump slowly slips behind Biden. It makes my blood boil.

Biden will "win" by a razor thin line, after all, work is work and they don't want to write up any more ballots than they absolutely have to.
I am calling it: America is now a communist country and there's nothing Trump can do about it, and nothing you can do about it absent civil war.
Here is the future: They are going to do nothing this winter because Trump is going to have control for too long, and they won't get enough people killed by cutting power and food. They'll wait until next year, and right during the first cold snap out goes the lights and then what are you going to do? Nothing but die. They will make sure for one reason or another people can't head south, they'll probably build the wall at a break neck pace bragging about how fast they are doing it when Trump "could not" and then, when you arrive there you'll be trapped and shot.
Kamala and the rest of her ilk have OPENLY STATED they are going to kill white America, - their exact words: "Remove ALL Trump supporters from society". How are they going to accomplish THAT? There's only one way. And Deagel has it documented.

The supreme court is still corrupt and Trump will not be able to use the supreme court to put this right. The left put up NO FIGHT AT ALL to stop Barrett, they only complained enough to make people think they did not want her. They did. And Kavanaugh is not going to pull through. IF the supreme court is even willing to take the case, they'll whitewash it and the communist revolution will be complete. EVERY communist revolution - EVERY LAST ONE - has a huge genocide. Guess who it is going to be this time.
YES. THE MARS MISSION IS CANCELED. Musk will be among the dead.
Musk will be among the dead because people will sit on their couches rather than shooting until the lights go out, never believing it will happen until it does. Jews don't like shooting people, no, they like sitting in their safe little enclaves denying resources until starvation does the trick; guns are dangerous don't you know but anyone can flick a switch.

Here are scenes from the great genocide, YOU READ IT HERE FIRST:

Cops hear a generator. For some spurious reason their masters dream up and issue at a moment's notice, you need a permit. It has to be on the generator. Cops see no permit and cash for clunker your generator with a bullet while you sleep.

Solar panels will be destroyed similarly for whatever spurious reason they dream up, it does not need to be legit, the objective is to kill you.

Permit to travel will be drummed up instantly to "fight the virus" and even if you can get out of dodge, you'll be arrested on the highway, and sent back home to starve or freeze to death.

Kids will be taken, "because their parents are screwed up", but the kids are innocent. That's how the communists will get the new generation, totally under their control. Parents will be blamed for not being able to feed their kids and will also be blamed for letting them freeze to death. Central control will have a safe place for the kids but not the parents, and if the parents choose to keep their kids with them, freezing, they'll be labeled abusers and will be dealt with.

In the subsequent summer, the communists will go around and "clunk" all gasoline engines with sodium silicate. I predicted this a decade ago but never said it because it seemed preposterous but you can bet on that happening. There will be a surplus of cars with all the deaths anyway.

They will go around and "clean up America" and "return everything to nature" by burning all the "abandoned" neighborhoods to the ground, and if you're one of the few stragglers who managed to survive, they'll just cart you off and at that point they'll kill you with a bullet if you're not happy with it. After all, many of those homes have dead people in them, who wants to deal with that? Just burn them. They are an eyesore anyway.

I saw all this for well over a decade and this is the reason why I continuously warned people about the building codes and wood houses. With this election steal we are going to see this, and the people did not vote for it. Those who did vote Biden were stupid and did not associate consequence with their vote.

There will be those who resist, and the only response will be to light their homes on fire. Problem solved. They won't last out in the sticks.
So how did I predict this? Well, except for the modern differences this happened in Ukraine. It also happened in China. WE ARE THERE.
I stand by this prediction. If people do not resist WITH FORCE after they steal this election, IT ABSOLUTELY WILL HAPPEN.
Hold your guns ALL YOU WANT, if you don't use them, your food is NOT going to arrive at Wal Mart. YOUR GUN SURE AS HELL CAN'T STOP A CENTRALLY CONTROLLED POWER OUTAGE. You have to stop them before this happens. Prediction: You will not.
UPDATE TO BELOW:
WARNING: THERE IS A VIRUS IN THE SPEECH TRUMP GAVE THAT ACTIVATES WHEN YOU TRY TO ACTUALLY DOWNLOAD IT. From what I can tell, watching it does not do anything, but downloading it will unleash a virus that will destroy your hard drive and re-flash your computer's bios.
I am taking care of this now, I got a new hard drive and a new memory card to flash the Bios with. Most people won't be up and running after this, and that's obviously the plan they are using to keep people shut up. It threw a brick in my path but I'll get over it as soon as I have an hour or so to fix this.
HERE IS WHAT WILL HAPPEN WITH THE ELECTION:
My best guess:

My guess is that Barret is a crypto christian and that Kavanaugh will end up being a traitor. Everyone thought Barret was SO GREAT because she did not murder her children. But lots of the criminal left did not murder their kids either. People overlook that -

IF the supreme court saves this, (and it is a BIG IF) my guess is that it will be because one of the leftists judges jumped ship and did the right thing. Already they have issued unlawful rulings allowing the mail in ballot charade, don't expect miracles from THAT court!
HERE IS REALITY FOLKS: IF YOU DO NOT WANT TO LOSE YOUR COUNTRY TO THE COMMUNISTS, RIGHT HERE, RIGHT NOW, THIS CAN ONLY BE ACCOMPLISHED BY A THREAT OF LETHAL REBELLION AGAINST THE JEWISH COMMUNITY. THE THREAT OF STARTING THE CIVIL WAR IN THEIR NEIGHBORHOODS FIRST.
FACT: THE JEWS OWN THE MSM AND BIG TECH THAT ENABLED CHINA TO BLACKMAIL AMERICA.
FACT: THAT SAME JEWISH MSM AND BIG TECH HAS ATTACKED AND WIPED OUT AND CENSORED ALL OPPOSING VOICES TO THE GREATEST EXTENT THEY POSSIBLY COULD. VOICES WORKING DESPERATELY TO SAVE THE NATION
FACT: IT WAS THE JEWS THAT SOLD AMERICA OUT TO CHINA BY COMMANDEERING AMERICAN CORPORATIONS AND HAVING THEM SUICIDE THE GREATEST AMERICAN SECRETS.
FACT: THE JEWS ARE THE BOLSHEVIKS, GUILTY OF GENOCIDE.
Suspicion - Amy Coney Barret is a trojan horse.
I hope I am wrong, but everyone knows what happened prior to this election steal where she refused to participate in shutting after election day counting down . . . .
Here's where I am at on Nov 4 -
Trump was the clear winner and they shut it down. After trying to steal the election via vote rigging and failing, they shut it down. That's how badly the government is infiltrated by communists. They delayed Trump's speech badly, and then when he did come on, they censored him by cutting his voice out when he said what they did. This morning, the video of his speech did get embedded into his twitter, but when you try to download it to save it, a VERY NASTY virus destroys your computer.
I am DOWN ONE COMPUTER.
I am attempting to recover it, but so far it looks like it destroyed the SSD. It also made changes to the BIOS but I don't know if it re-flashed the BIOS or not, all I know is that with the existing SSD I cannot re-install an operating system.
GO TO TRUMP'S TWITTER, WATCH THE VIDEO, AND RECORD IT WITH A CAMERA. Fortunately I got GREAT recording with a camera. But I can't upload it because the computer that got whacked was the one that can compress the videos down so well I can post them and serve them.
At this time, I am solving problems because not only did those ****ers cancel the election after they failed to steal it, they infected his speech with a virus that will wipe out the computer of anyone who tries to download it, even with Linux.
UPDATE: THE VIRUS DID DESTROY THE SSD.
TRUMP HAS DECLARED HIMSELF THE WINNER.
UPDATE: THE MSM AND BIG TECH ARE PREVENTING TRUMP FROM SPEAKING. THIS IS ALL HE MANAGED TO GET OUT:
UPDATE, TRUMP BUSTED THAT, HERE IS THE LIVE FEED OF HIM SPEAKING They censored him when he talked about vote fraud.
Trump has stated that he's going to the supreme court to cancel the vote count for all votes produced after the poll workers went home in violation of the constitution. He said he was not going to allow votes cast at 4AM to take the election away. He questioned why, when he was obviously winning that all the key states they refused to declare it and simultaneously stopped counting ballots and closed. He then said he won the election. And he obviously did.
MY COMMENT: That is DEFINITELY true, however, this is not over until the vote fraud is counted and given up on. Hold on to your britches people, we are in for one hell of a rough ride.
Every other election was counted on election night, but THIS ONE is special, in all the key states the workers quit early and went home!!! So miracle ballots could appear by morning. EVEN THE MSM IS CALLING THIS UNCONSTITUTIONAL.
If rioters come to your neighborhood, don't wait for your house or anyone elses house to be on fire, SHOOT. You have your guns for a reason, don't disappoint the world by not using them when you damn well have EVERY right to, regardless of what the corrupted courts and cops say. Trump might drain the swamp now, and there is a LOT that needs to be done before the most basic common decency is restored to the police and courts.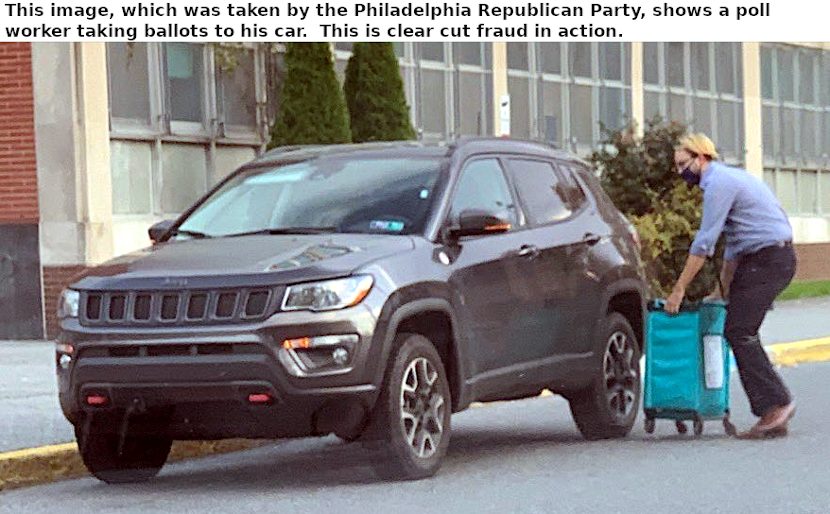 BRICKS ARE BEING DROPPED OFF IN CITIES NATIONWIDE NOW.
IF YOU HAVE A TRACTOR OR LOADER WITH FORKS, GO TAKE THEM NOW. TAKE ALL PALLETS OF BRICKS LEFT ON CITY STREETS EVERYWHERE, THEY ARE FREE AND YOU CANNOT BEAT FREE. I AM NOT JOKING, LOTS OF LANDSCAPERS AND CONTRACTORS HAVE BOBCATS, ARTICULATED LOADERS AND TRACTORS WITH FORKS. AND ANTIFA IS HANDING OUT FREE BRICKS, BEST GATHERED BY THE PALLET LOAD. And once again, no, I am not joking, GO DO IT.
IF YOU SEE BRICKS ANYWHERE, CALL CONSTRUCTION CONTRACTORS AND LANDSCAPERS AND TELL THEM WHERE THEY ARE, AND TO COME GET THEM FOR FREE AND TO HURRY BECAUSE SOMEONE ELSE WILL TAKE THEM TONIGHT IF THEY DON'T TAKE THEM.
If you see them ANYWHERE and you have a place nearby to put them inside, GO DO IT or you're gonna get smashed to pieces and burned.
You can also: Hand load them into your pickup truck and take them home, or even put as many as possible in your car. One way or another GET THEM OFF THE STREETS.
GET ON SOCIAL MEDIA AND TELL EVERYONE ABOUT THE FREE BRICKS NOW.
Prediction: Biden will landslide "win".
We are seeing EPIC IN YOUR FACE FRAUD and the margin Trump had simply is not enough to overcome it. Additionally, the poll workers are proud of the steal. That's a new one, they are so sure they'll get away with it they are bragging.
THE MORE VOTES, THE TOUGHER THE FRAUD, GET OUT AND VOTE AND FOR GOD'S SAKE SAVE THIS COUNTRY.
Last time, for Hillary, all we had was spurious crap. This time, we have hardcore widespread fraud documented. It is so bad they simply cannot hide it. They are brazenly going for it not even caring if people know, and it is SO BAD Bitchute got taken out over it.
Bitchute went down because of Cloudflare for several hours. They allowed Bitchute to function again after enough of the election was done to call it.
TOTALLY NEW VOTE FRAUD METHOD FOUND
Poll workers say the system is down when it is not. They then tell you to leave your ballot with them, and they'll submit it for you later. They then trash your ballot. HERE IS PROOF: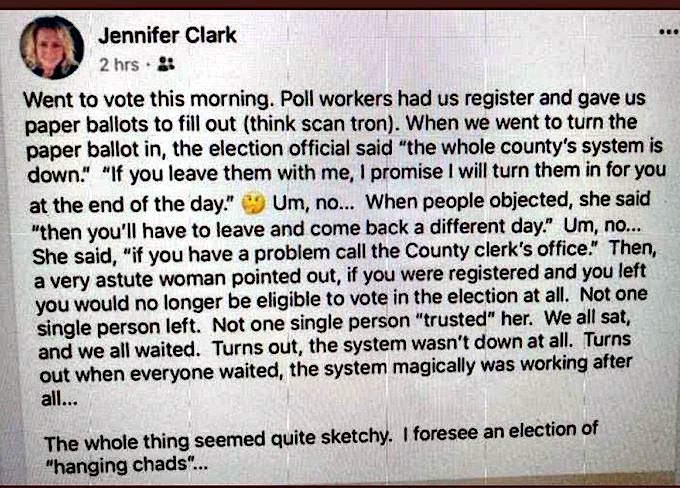 ANOTHER fraud video. Here we have a Democrat cutie pie stuffing a whole pile of mail in ballots into a drop box in Pennsylvania
Mexican voter: I never saw this level of fraud in Mexico
A Mexican Trump voter tried to vote, and was shocked by the obvious fraud. She recorded this saying it in both Spanish and English, I have edited it down to only the English.

Click here or the image below.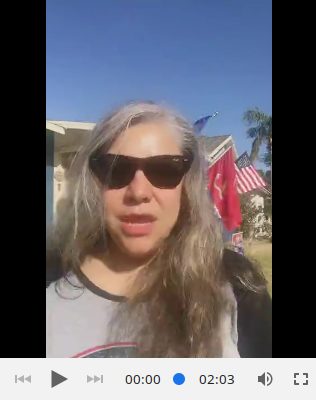 New York is not even opening the voting machines
At this polling place, one is open and "broken" and they did not even bother opening the second one. This is obviously because they are afraid the machines will be monitored in this election, and they'll therefore do a manual steal.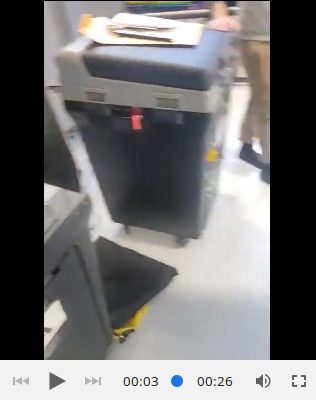 Vote fraud underway in Pennsylvania
THIS VIDEO IS NOT GETTING NOTICED. SOMEONE GET IT TO ALEX, GATEWAY, AND OTHERS STAT.
If you don't feel comfortable posting that people need to call synagogues for answers, that's fine, the video is not hosted on this server, GET IT OUT THERE.
Start calling synagogues in Philadelphia and ask them why poll auditors are being denied entry.
Don't make any threats, but DO say "We know YOU determine the outcome of elections, and we want answers!"

I have already called a few. It's quite enjoyable actually.

Beth zion synagogue: 215 735 5148
Bnai Abraham: 215 238-2100
Rodeph Shalom: 215 627-6747
Society Hill Synagogue: 215 922-6590
Mekor Habracha: 215 525-4246
Kol Tzedek: 267 702-6187

Be polite. Demand an answer. and if they scream anti-semite, tell them that's not what the poll watchers say!

Ok, here is what I am saying when I call: I would like a little insight into why poll watchers are not being allowed into the polling stations.

They will say "we don't have any information on that". Take the conversation where it goes and hold your ground, telling them they do know. At the end, state "The Jewish community controls the elections, YOU have the answer to this, and then tell them bye.

I have not had any scream "anti semite" yet, as long as they don't do that, then keep it as calm as possible. The call should be as short as you can make it and get the point across.

Demand an answer, but do not make any threats.
Synagogues are easily found, just type synagogue and the city you want to call to into any search engine. Keep it cool, MAKE NO THREATS. Just let them know without telling them we know they are stealing this.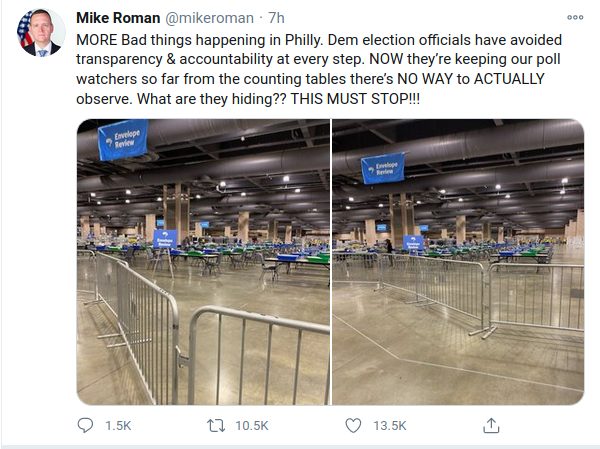 Rush Limbaugh is playing from the exact same sheet of music I am
This is a transcript from a portion of today's program. This is it, EXACTLY:
Ladies and gentlemen, if there was ever a day to turn off all media except for the EIB Network, it is today, because we have reached peak disinformation. I'm gonna make a prediction to you, just to give an example.

Sometime tomorrow - and it may even be before the polls close - there's gonna be a network that will call the race for Joe Biden. And I don't know; they might use exit polling data. Who knows what they'll use, but the effort to suppress Election Day turnout tomorrow is going to be intense. Because, ladies and gentlemen, the people who are professionals in politics know one simple thing. There is nothing that overcomes Election Day turnout. Election Day turnout is how we avoid election fraud.

If we overwhelm the polls on Election Day - and don't be afraid of COVID, wear the mask, do whatever you have to do to make yourself feel safe. Stay six feet away from whoever you're nearest if you go. It's okay. You can do it. Election Day turnout is the best way to overcome election fraud and also the after-election chaos and the counting of votes, the chaos there, is to have so many votes on Election Day that it overwhelms the cheating. That is the magic of Election Day turnout. And don't think that your vote doesn't matter.

I'm not trying to be cliched here. This is absolutely the way we win, Election Day turnout, unless you've already voted. But despite all you've heard about early voting and absentee, the number of people who haven't voted yet is phenomenally high. So just make sure that on Election Day, if you've not early voted, that you get out and turn out because it is how this election is going to be won. And they know it on the left. They know it on the Democrat side.

Let me tell you something. These Trump rallies, these crowds are phenomenal. Even the governor, lieutenant governor of Pennsylvania is saying you can't Photoshop these. I'm looking at a photo now. I was gonna put it on the Dittocam, but by the time it ends up there the resolution would be so off that it would just be a blob of red here. It's 30,000 people in Butler, Pennsylvania. Democrat Pennsylvania Lieutenant Governor John Fetterman vocalized a major concern among prominent Democrats alerting his followers to Trump's massive crowd Saturday night in Butler.

He said: "The president is popular in Pennsylvania. I don't care what polls say. With 700K ballots still out there, you need to BANK YOUR BALLOT. Use a Dropbox. Get them in."

They are worried.

Make no mistake: There are elements within the left-wing establishment that would rather see the country destroyed than another Trump term. It's come to that.

My comment: Today was the day I learned just how many useless eaters get to cast a vote. And I'll call them that, because that's exactly what they are - absolute dregs that enable the worst communist hell holes to rise to power. I was knocked off my feet by it. It made me wonder if America is worth saving at all. But then, there's just short of a 2/3 majority that IS worth saving, I kept spinning today, saying MY GOD, there are tons and tons of people out there that literally need an adult to protect them from their stupidity. I never in a million years thought it was truly that bad. These people are the ones that put elections within the range the communists need them to be for a steal. and that's a serious threat.
RUSH IS RIGHT.
It is going to take ALL OF US to save this, DO NOT let a single vote go to waste, get everyone off their butts and into the polls tomorrow to save this.
AND A LITTLE MESSAGE TO THOSE STEALING:
Trump is putting new people in charge of the FBI either tomorrow or on the 4th. Do you want to hedge your bets against prison? Like it or not, IF these people he puts in charge are not corrupt, they will have 80 days to hang you, and there WILL be a real investigation. Think you'll get away with it? If so, GO FOR IT. My bet will be with an FBI that is not lead by sh*t.
Another thing I find very distressing about the enormous pile of legit Biden voters is that if we do need to take this country back, people are going to have to shoot these idiots out of the way before anything can be taken back and a LOT of them are armed. They, more than the Chinese, corrupted police, or any military force are going to be the ones that need to be dealt with and they will be the ones that will screw the country in a civil war.
America has approximately 130 million zombies to deal with. That is a BIG PROBLEM and they'll be right there, ready to go for the next election also. Even if Trump does get in, the threat will not be over, we'll have to deal with it AGAIN, over and over again.
I was right to throw away all results submitted to Voterig.com
The submissions to that site were 100 percent Trump. As it turned out, that was not reality.

What was discovered with in-house polling was that an enormous segment of the American population really is stupid enough to support Biden. Biden's actual support level is somewhere between 35 and 45 percent. That's not as high as what the "official" polls are saying, but it is still so shockingly high it is a definite threat to the country. It is SO HIGH it won't take much to rig the election and put Biden in, even though Trump was the clear winner. Let's say that it's a worst case scenario - 45 percent Biden and 55 percent trump. To swing that to a steal all you have to do is give Biden 7 percent and steal 4 percent from Trump and it is IN THE BAG. Folks, that's a cake walk!

Trump will only take about 55 - 65 percent of a not rigged vote. I did not think America was in such horrible mental condition, all I did was pace half the day with my head spinning once the results of my own poll were tabulated. For the rest of the day I am useless, Claudia talked me into taking the rest of the day to unwind. An election loss via theft is going to be a piece of cake. I did not expect that. The rest of the top part of this page (below) is my first post on this topic. I am shocked and disoriented, never in a million years would I have expected a true 40 percent level of support for Biden. I am so upset with America I have to stop typing before I insult the good people. I just want to scream.
The polls are not as rigged as everyone is assuming.
Though Trump is indeed ahead, it is not nearly enough to account for vote fraud. Since the entire purpose of doing the election map was to prove the other polls were lying (and seriously) and that is clearly not the case, there's no point in doing the map at all. The slant is only about 15 percent. I did not intend to show a 15 percent slant in the polls, I expected it to be about 60 percent slanted and that is not the case and I am not going to sit here and lie. This project is canceled, my time is better spent elsewhere. It was an awesome pile of work for nothing.
I am going to clarify why I quit this: Because we all know that when the left does polling, there are margins of error they always put in favor of whoever they want. This will swing the results by 10 percent. Five more percent added to that is not newsworthy, If I am going to do any good it has to be an absolutely shocking discrepancy and it is not, 15 percent simply won't make enough of a difference in the public eye when the public already knows they are stealing this.

FACT: The MSM succeeded in it's goal of turning a huge portion of mainstream America into complete blathering idiots. The election fraud happened via CNN and big tech. There's a real chance Trump will lose this to not a whole lot of fraud, and we already know there is fraud. If you have any sense at all you had damn well better vote.
DO YOUR PREPS FOR A COMMUNIST TAKEOVER NOW, YOUR TIME IS UP.
If Trump is only 15 percent ahead, he's going to lose this to vote fraud. That absolutely is how this will (probably) end.
The only caveat I see in my polling effort was that I had everyone exclusively call leftist hot beds. In the leftist hot beds, Trump is slightly ahead (not 15 percent, it is very close). And that's sure as hell not good enough to overcome the fraud when we need an epic victory that is a continent washing tsunami and not a mere landslide to overcome the fraud. Outside the leftist hotbeds, the country is still surprisingly ill informed and they will not be enough.

Sans fraud, Trump would likely take all 50 states but that's just not good enough when his lead is only about 10 - 15 percent.

OUTSIDE OF OUR PRAYERS OUR ONLY HOPE IS FOR NSA HACKERS TO DEAL WITH THE FRAUD. THE NSA IS THE LEAST CORRUPT OF THE INTELLIGENCE AGENCIES, WE HAD DAMN WELL BETTER HOPE THEY ARE WATCHING OUR BACKS. They could stop the fraud with ease. Don't bet on it.

Prepare for a post-America world, I'd say at this point it is highly probable. Trump definitely won but the fraud was simply too well refined and complete and now Kamala is talking pure communist. Biden will be flushed with Hunter's hard drive and Kamala will be inaugurated absent an act of God. These leftists have flatly stated they were going to remove the Trump supporters from society. Get ready for the Deagel report to happen as stated.
IF YOU HAVE NOT VOTED ALREADY, GET OUT AND VOTE, THE LEFTIST THREAT IS REAL AND THERE WILL NOT BE THE KIND OF SURGE EVERYONE IS EXPECTING TOMORROW UNLESS EVERY DAMN LAST TRUMP SUPPORTER VOTES. And even after that, we need to pray and pray hard, that's not just a statement, this time prayers will probably be everything.
My guess is that even if Trump did have 80 percent of the vote, they'd steal it anyway. 60 - 65 percent is absolutely not going to cut it.
Did that scare you enough? GET OUT AND VOTE.
Infowars: Trump set to win a historic landslide . . . . yes, 65 percent of the actual vote would do that, until you factor in all the crap!

If Trump somehow makes it I'll attribute it to the white hats at the NSA. The CIA can try all it wants, the DHS can try all it wants, but they'll lose against the NSA if that's what it all ends up boiling down to. If the NSA has been secured as some have claimed, they would absolutely destroy the FBI and CIA if they were asked to. That would be a good thing to pray for: Pray the NSA is not corrupt and will save this country. We'll have our answer tomorrow.
I gotta say, today is the day I am getting hacked hacked hacked hacked AND HACKED. It's not like I don't notice the remote desktop and other crap going on today . . . . . Even Google sent back a notification my computer was doing "illegal crap" AND I NEVER HIT GOOGLE, EVER. How TF did that pop up? Gosh, why would that be? Why are the passwords not sticking in the browser? Obviously because the other guy does not have them set and I'm his clone, on my own computer. The processor is not hot, maybe the message from Google was for the other guy! Nice how the idiot keeps ejecting the CD drive too! I GOT IT. I'm hacked by China after the Hunter stuff and they never get sh*t right, just like that damn virus!
Dear Bill: I regret to inform you that the also made in China "dark winter" virus - issued on warranty after corona failed - has also failed.
Millie Weaver got into the Left's secret meetings and busted them
They plan for total chaos, and are going to shut the country down. Watch what happens, every place they get away with it has an upper leadership guilty of treason, the cops could shut all of it down, STAT. They probably will not. So this is an important watch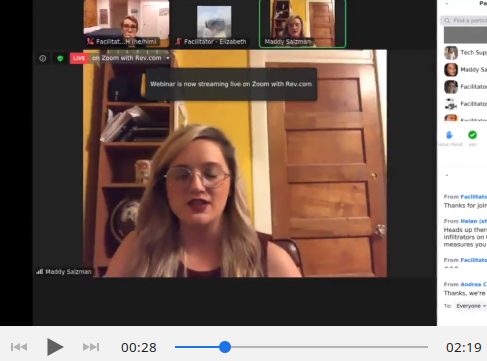 WE NOW HAVE THE MOST IMPORTANT BIDEN VIDEO YET AGAIN.
Just when you think you've seen the most important one, a NEW MORE IMPORTANT ONE shows up, YES, BIDEN JUST SAID IN HIS OWN WORDS THE PEOPLE ARE NOT NEEDED TO GET HIM "ELECTED", I kid you not. See this:
The Voterig.com server is now sending the following video out about 1,000 times a minute. To distribute the load, please use these links that go to the video on a different server.

Biden screws up and says voters don't matter, he's going to be "elected" regardless.

Remote controlled Germanwings Airbus A320 crash? All evidence points to this.
FUKUSHIMA CLEAN UP WORKERS: SHUT UP OR DIE!
Chavez | chiapas earthquake | CIA | Codex Alimentarius | NSA Compartmentalization | contractors | web control | Intel's bugged Corevpro | Al Rasheed bombed on purpose!| Rockefeller crack head intellect |< Banker Bailout | supplemental benghazi | Bickering Jews | Nuclear Blackmail |
Agenda 21 | BUSTED! Federal government BUSTED for forcing America's nuclear industry to be a ticking time bomb | Hacked ECM's | stuxnet cartoon | Mind control via electronic manipulation | cells addendum | Abortion proponent CRR busted by Congress | Nibiru | How to deal with tyranny | Debka Psy Op | Deep Water Horizon | They are desperate! | SKP | Separate disinfo | Chinese invasion | Ecuador Snowden | Electronic Intefada | snowden 2 | civilization | Explosives in nuke plant! | Wag the Quake | Farganne snail | Prozac mouth wash for kids - Fluoxitil | Fukushima Sabotage click here for updated Fukushima PDF | NSA KEY | Kokesh CIA | Power grid tampering will end an era | Visit to Iranian consulate | gun control | Jenin disaster comments |
HAARP: Digital Stepping in the Aurora Borealis | Hastings murdered | Zombie Apocalypse | 3 watt 3G | Mileage scam: 50 plus mpg and more | 911 aircraft: Mike Phillips speaks | another antidepressant story | Palestine demolition: Aboud Church bulldozed | Jenin bulldozed | antidepressants | Assange | Aurora shooting | Russ Clarke explains 911 for the children | FED GETS THE MESSAGE: Mexico blew the CIA away | 70 MPG | Sandy Hook original coverage | "human" | Substation Attack | INTERCEPTED!! The post office has automated mail intercept | The Real Iran | Iran bombed | Syria Nuked | FBI whistleblower | Full coverage of Jenin disaster | Jewish Community | Dorner incident: FAKE MANIFESTO!! | Masataka Shimizu |
.
Libraries infiltrated and destroyed | Links | Full Ashkenazi Jew Luciferian report| Mails from Japan - the real perspective | True patriots selected for elimination - The main core | Pornshackles | McCaffee SCAM | Mexico | VT busted: Micro Nukes | Off the air | A Mexican speaks out | Letter to the Mossad | Fertilizer plant explosion | Uri Avnery on Palestine | New antidepressant mails | Gas explosion | BOSTON BOMBING: NO EMT? | NSA Edward | NSA not God | Occupy L.A.! Pizza shop video FAKE | Stories from Jenin | Executive Order bans tech. | Election stolen from Ron Paul | PERPS!! The real perpetrators of the Boston bombing | Persia | GMO Bacteriophages as biological warfare| Photograph the CIA! | Predator Drone | NSA competition | Sydney riots | Syria psy op BUSTED! | ARMY PUPPY THROW VIDEO- arent you proud? | Queensland police destroy shaken Baby SCAM! | Palestine death: Meet Rachael Corrie (watch this to the end) | Weather mod Radar anomaly | TRAIN CRASH HACK | Boston Whistleblower | rigged elections | Nuclear Rogue | Russia playing Snowden games | Sandy Bridge (old version) | Senator Wyden visits Fukushima and it's worse than ever said | Here's a good one! | Snowden is the litmus test | V4BL is tasked to destroy the truth movement | SWINE FLU SCAM: Original Tainted Nightmare report | IRS suicide crash hoax: Joe stack story did not stack up. | Israel destroys records | Did the U.S. down Sukhoi Superjet? | Real good SHTF advice | Taxation without representation | The Hack - Much of the internet is entirely AI generated | GMO Tomato Freakout | I said this before Snowden! | Joe Vialls 1 | Joe Vialls 2 | Jesus was NOT against violence? | Meet Nick Vogt | 250 plus mpg! | Mossad nailed! | Nailed again! | COME ON NOW! | Open letter to NSA | When all is lost 40 percent lies! | Amish Allergies and vaccines | Benghasi psyop fail | Spamhaus weponized | Hurricane Sandy: ConEdison destroyed by thermite | Google Arrogance | No Hesitation targets for American citizens | Indianapolis bombing was NOT a gas explosion | 911 encore: Mossad caught blowing up Mexican congress! | Oklahoma City bombing: Staged with demolition charges | PressTV | Psyapocalypse | Russian comeback | Rockefeller narratives | Haarp and hurricane Sandy | Security tips 3,2,and1 | A shill screws up | Smart Meters, (tip4) | Springfield Bombing was NOT a gas explosion either| Youtube rigging| Contractor earthquake testimony |